Sharing a few of my favorite beauty products that don't cost a pretty penny, but work as well or better for me than pricier options I've tried!
 Dove Fresh Care Dry Shampoo
This is the very first dry shampoo I ever tried.  It smells fresh and clean, and not only does it absorb oil from my unwashed hair, but also adds some texture.  I have very fine hair that loves to lay very flat to my head so sometimes I even use dry shampoo on days I have washed my hair, just to add more volume.  Or I'll spray dry shampoo into the roots of my hair before bed, and then put it up in a loose bun on top of my head to sleep on.  When I wake up and style my Day 2 hair, I can brush through it and add some loose waves with a curling iron and it has a lot more volume than if I'd slept on it down.  I've tried a few other pricier brands that I've seen others rave about, and just didn't feel they were worth the extra cost compared to Dove!
Equate Ultra Whitening Strips
Whitening strips have come a long way.  I have had my teeth professionally whitened, and I've used these generic strips.  Just as effective, and more convenient.  And if you are really feeling frugal, you can cut the strips in half (horizontally) and so you get double the treatments from the same box.  I have noticed some sensitivity when I do multiple treatments, but if I use a toothpaste specifically for sensitivity it really helps.
Cetaphil Daily Facial Moisturizer
I have slightly sensitive skin – especially when it comes to sunscreen, and a lot of the daily moisturizers I've tried leave my skin red and stinging.  After my son's allergist recommended Cetaphil body cream for his eczema prone skin, I decided to try this Daily Facial Moisturizer with SPF 50 and loved how well it hydrated my skin.  For summertime, it's perfect to use under make up, or by itself with a light dusting of powder.  It does seem to have a slight shimmer to it, so your skin looks healthy and glowing.  And it doesn't make me breakout!
 Jergens Natural Glow Instant Sun
When you are super fair skinned with no hope of a natural tan, this is the next best thing.  I use it a few times a week after shaving and exfoliating in the shower.  What I love is that it comes out as a foam, and rubs into my skin quickly and evenly, as compared to other lotion type tanners I've tried.  It dries super fast (less than 2 minutes) and doesn't come off on my clothes.  I like to rub it in with a  self tanning mitt so I don't have to worry about my hands looking dirty.  I also like that it doesn't have a strong odor like some self tanners.
Me! bath Summer Rain Bath Bombs
These smell amazing!  I keep these in a bowl near my tub and they make the whole bathroom smell clean and fresh even though they are still wrapped.  Drop them into the tub and they fizz up a storm, and then make your skin super soft and moisturized as you soak!
 CoverGirl Concealer
I think I used this concealer (color: Ivory) in high school, and though I've tried more expensive brands, I find myself just reaching for this one whenever I need a little brightening under my eyes, or to neutralize any redness around my nose.  I also use it as a primer on my eye lids and of course, to minimize blemishes.  I like to apply it with a small brush.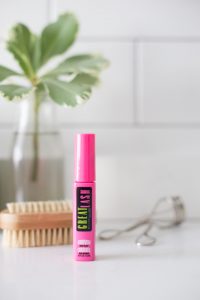 Great Lash Mascara
That little pink tube is such a classic!  I like the way the curved brush helps reach the lashes in the corners of my eyes, and I feel like the mascara is a little on the dryer side compared to some.  Since my lashes are very straight, I curl them first, and the dryer mascara doesn't uncurl them as much.  Think of it the same way as if you curled your hair, and then wet it down with product.  I do two light coats, letting them dry in between, rather than one heavy coat.  Here's a little tip for curling your lashes if you have straight ones like me – warm your metal eyelash curler up for a few seconds by holding it in front of a blow dryer on the warm setting.  Be careful not to get it too hot though so you don't burn your eyelids.
What are your favorite drugstore beauty picks? I'd love to hear!
Disclaimer: the links in this post for Drugstore Beauty Picks are Amazon affiliate links.