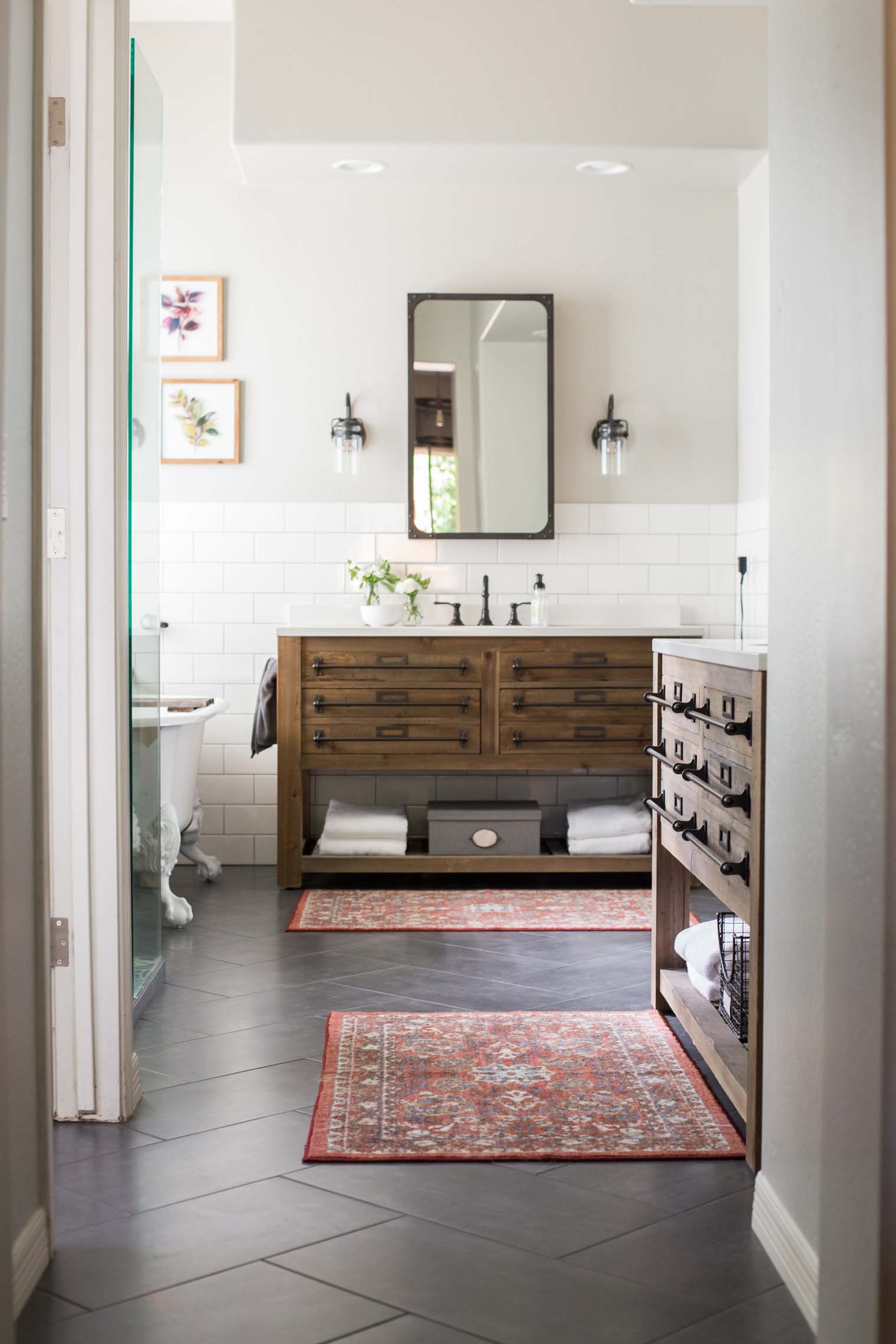 Welcome to my master bathroom! Let me show you around.
We moved into our house about seven years ago, and did a lot of renovation right away, but finally got around to our master bathroom.  This project took us almost a year to complete, and I'm so glad it's all coming together now.  Every time I walk into this space, it feels so bright and peaceful and warm, and I'm really glad we decided to finally put the work into it!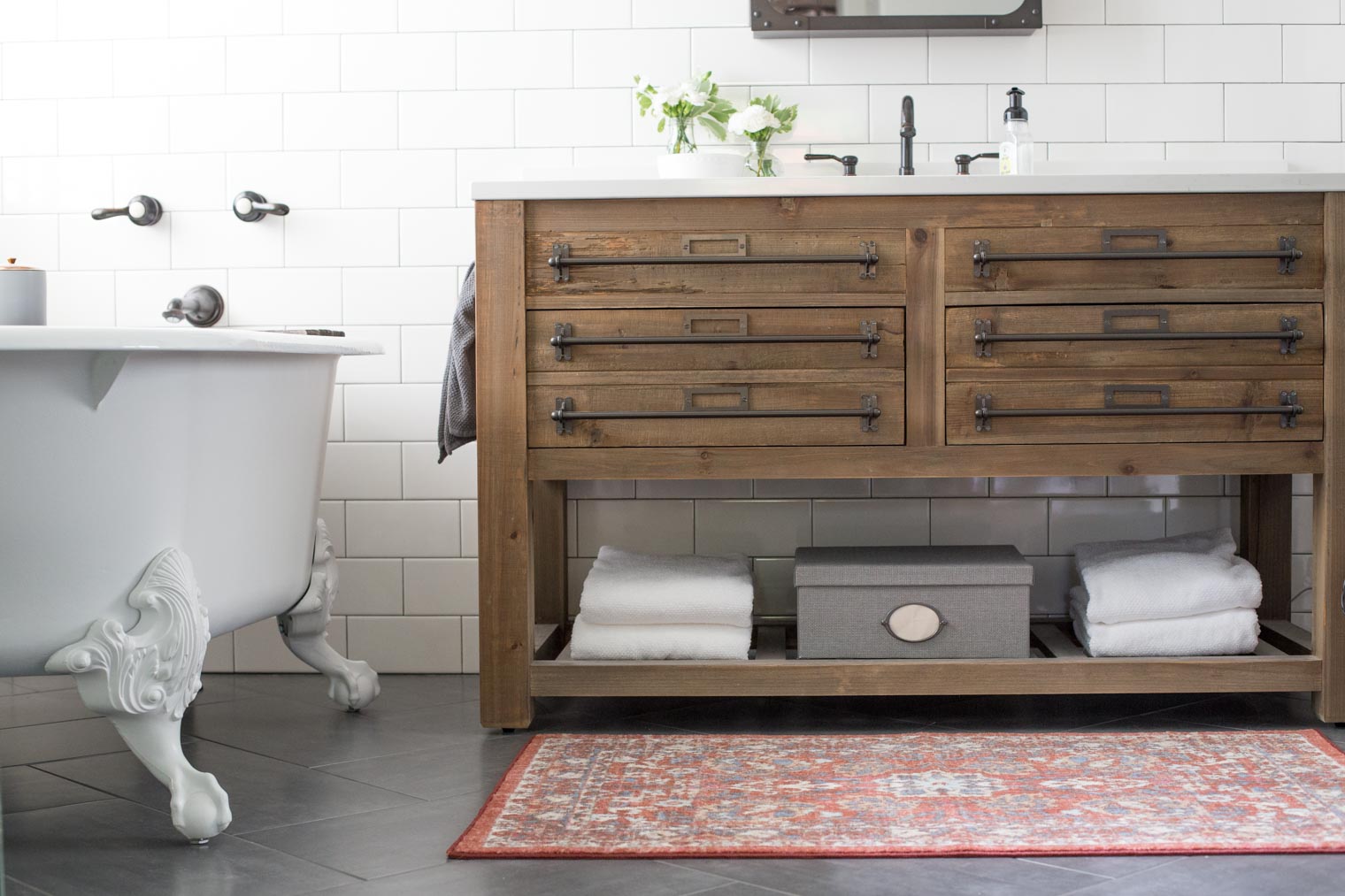 We kept the overall footprint of the bathroom the same.  It has plenty of space, and already had separate his and hers vanities which we loved – except for the yellow honey oak finish.  It also had a cultured marble garden tub that felt a little dated and a connecting small(ish) shower, along with some slate tile flooring from the original owner of the house that wasn't in the greatest shape.  So we tore it all out and moved into the boy's bathroom.
One of the first thing we ordered was the new tub.  That cast iron claw foot tub probably caused the most trouble for us.  We had to special order it, and had no idea it would take forever and a day to come.  It held up progress, but after that first long soak I knew it was worth the wait!  Of course it's crazy heavy and we had to have some plumbing work to make it happen, but we're glad we didn't give up on it.  The boys think it's the best thing ever and feel so fancy taking a bath in it.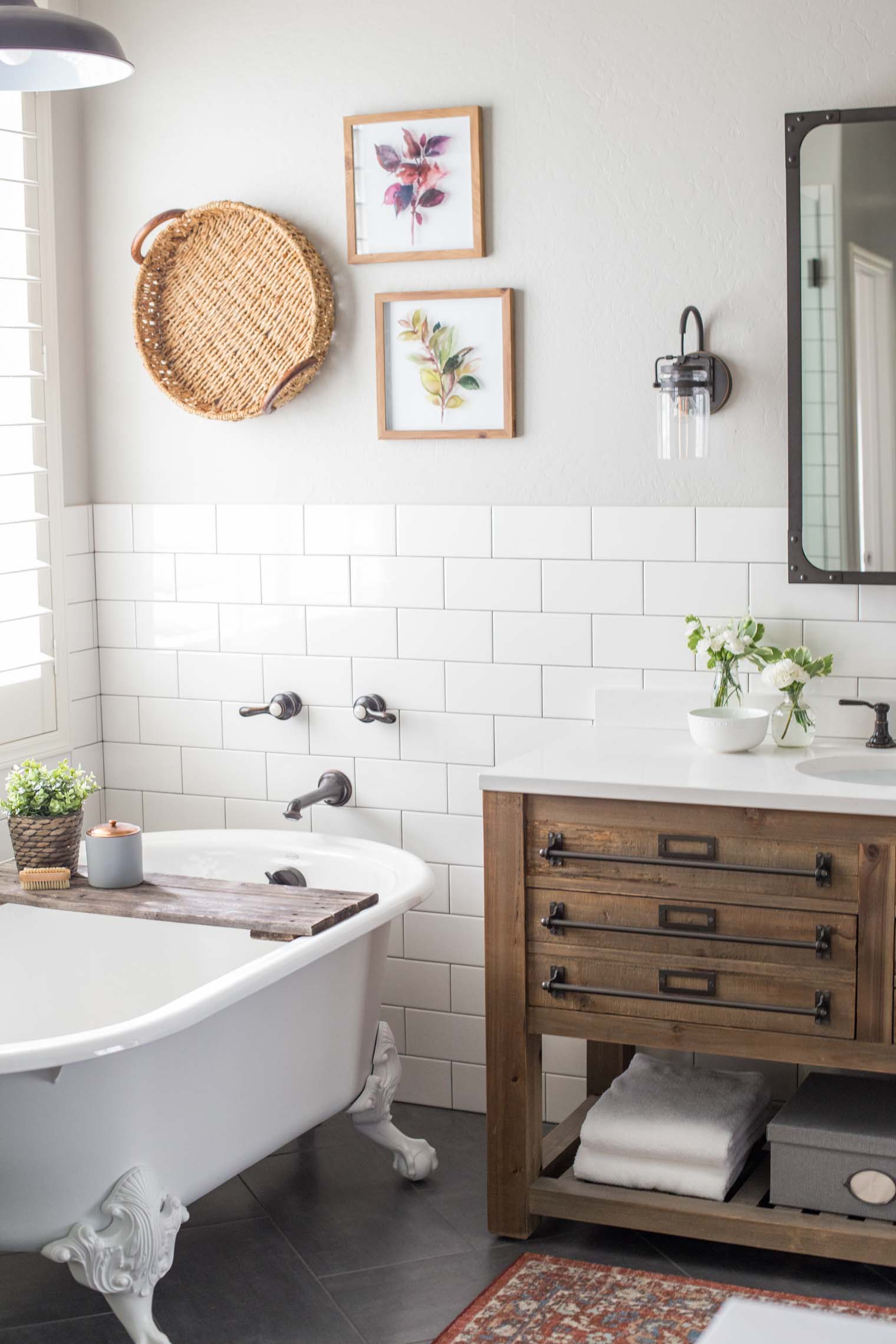 I fell in love with the mercantile style vanities, but was a little worried about loosing some of our cabinet storage space.  They both have two deep drawers, but let's be real – that open shelf on the bottom isn't too functional.  But the large mirrors above our sinks are deep medicine cabinets, so that extra storage so helps keep all the necessary things within easy reach.  And if two big drawers and a deep medicine cabinet aren't enough storage for ALL THE BEAUTIFICATION things, it might be time to reevaluate my routine!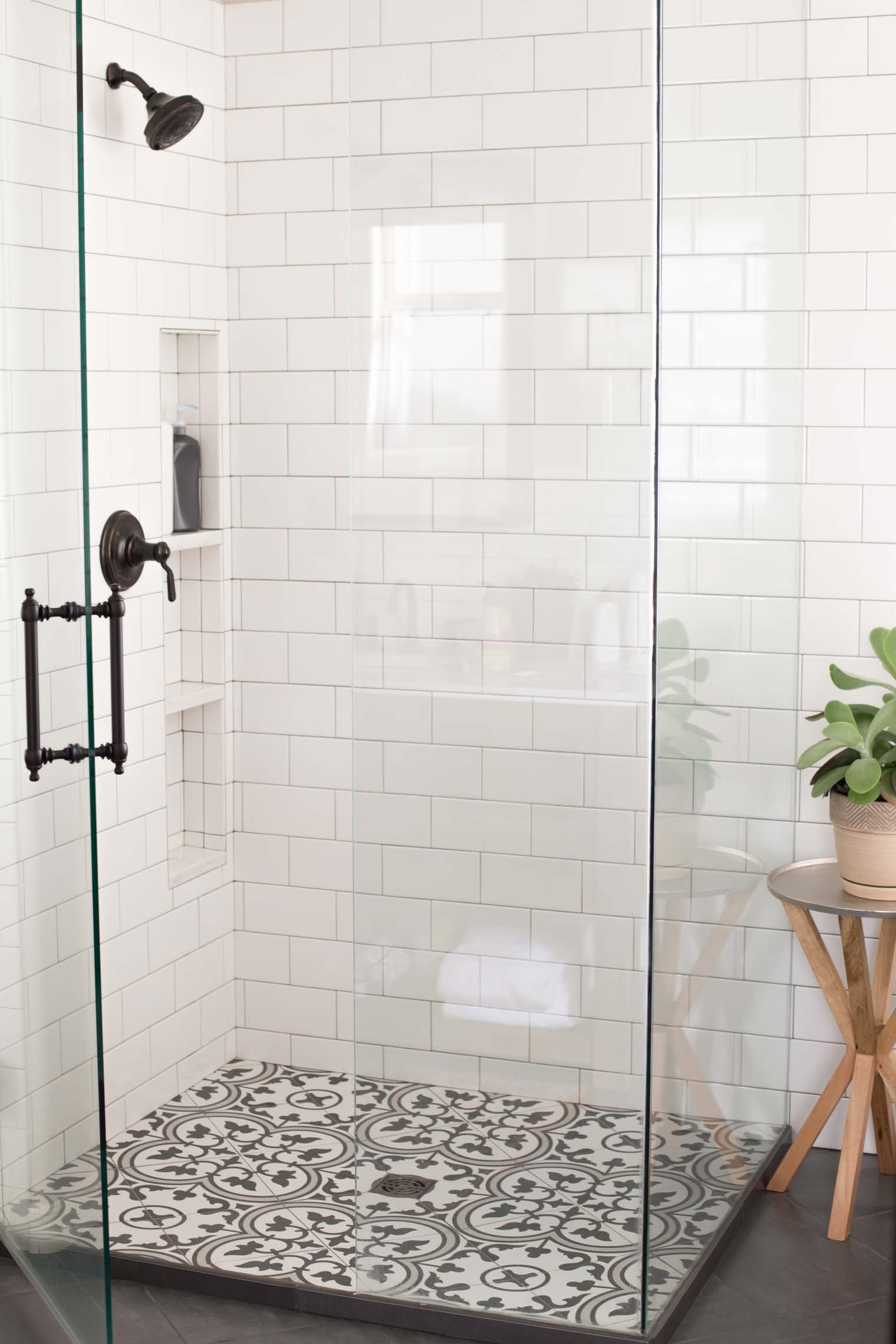 We kept the size of the shower about the same, but took out a bench and added the clear glass enclosure all the way down to the floor.  I had been hoping to put a patterned cement tile on the shower floor, but our tile guy was worried about hard water stains over the years.  So let go of that dream, and instead I found this much more practical ceramic tile.  I love the way the pattern worked out, and how it ties in the grey and white of the floor and wall tile.  Sometimes you just have to listen to your tile guy!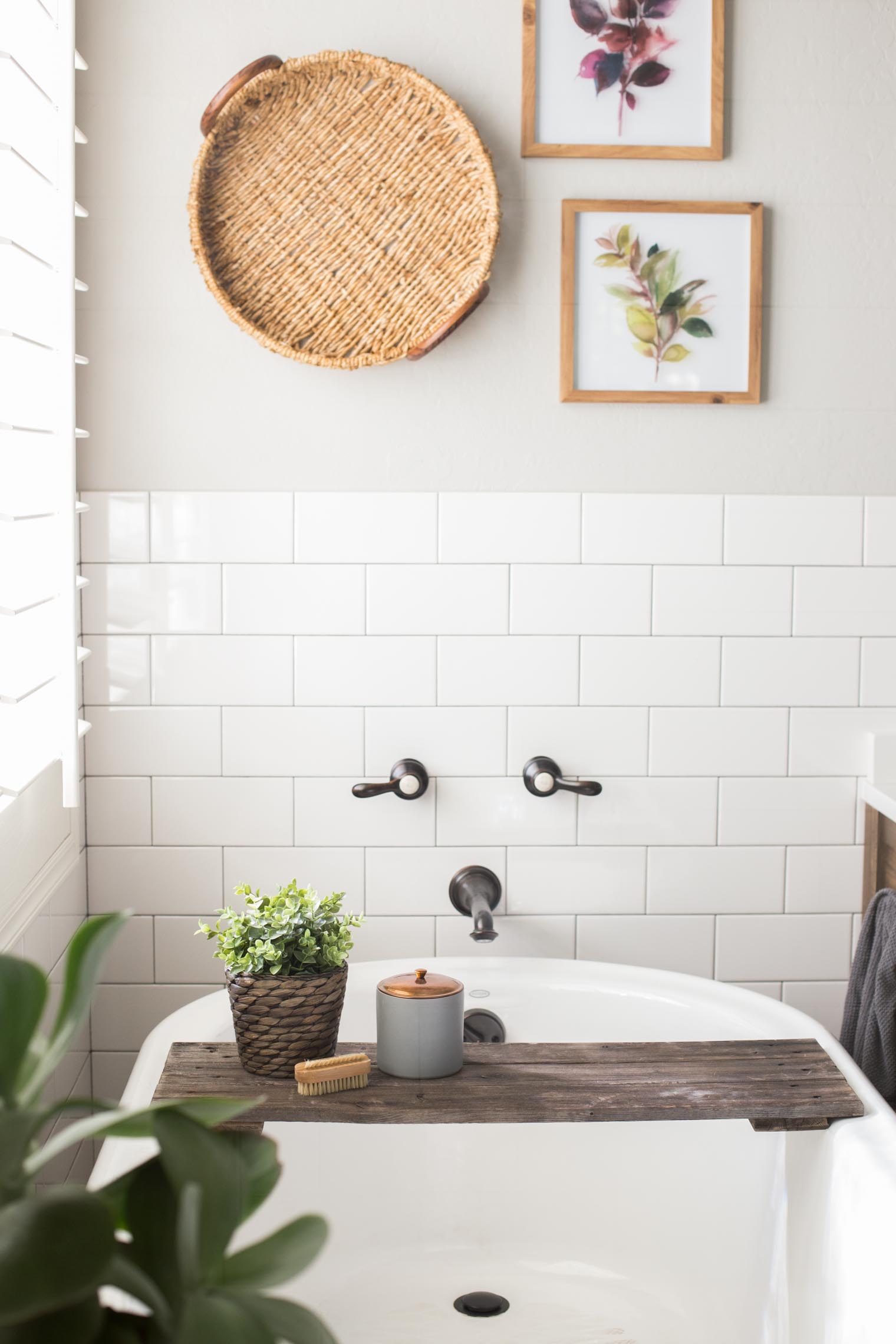 Cory built a simple bath tray out of some weathered wood from a neighbor's swing set they were taking down, and it's the perfect thing for a candle, a good book, and a nice cup of hot tea in the winter time.  Whenever I go for a long hike and my feet are starting to complain, I think about how good it will feel to finally give them a nice long soak!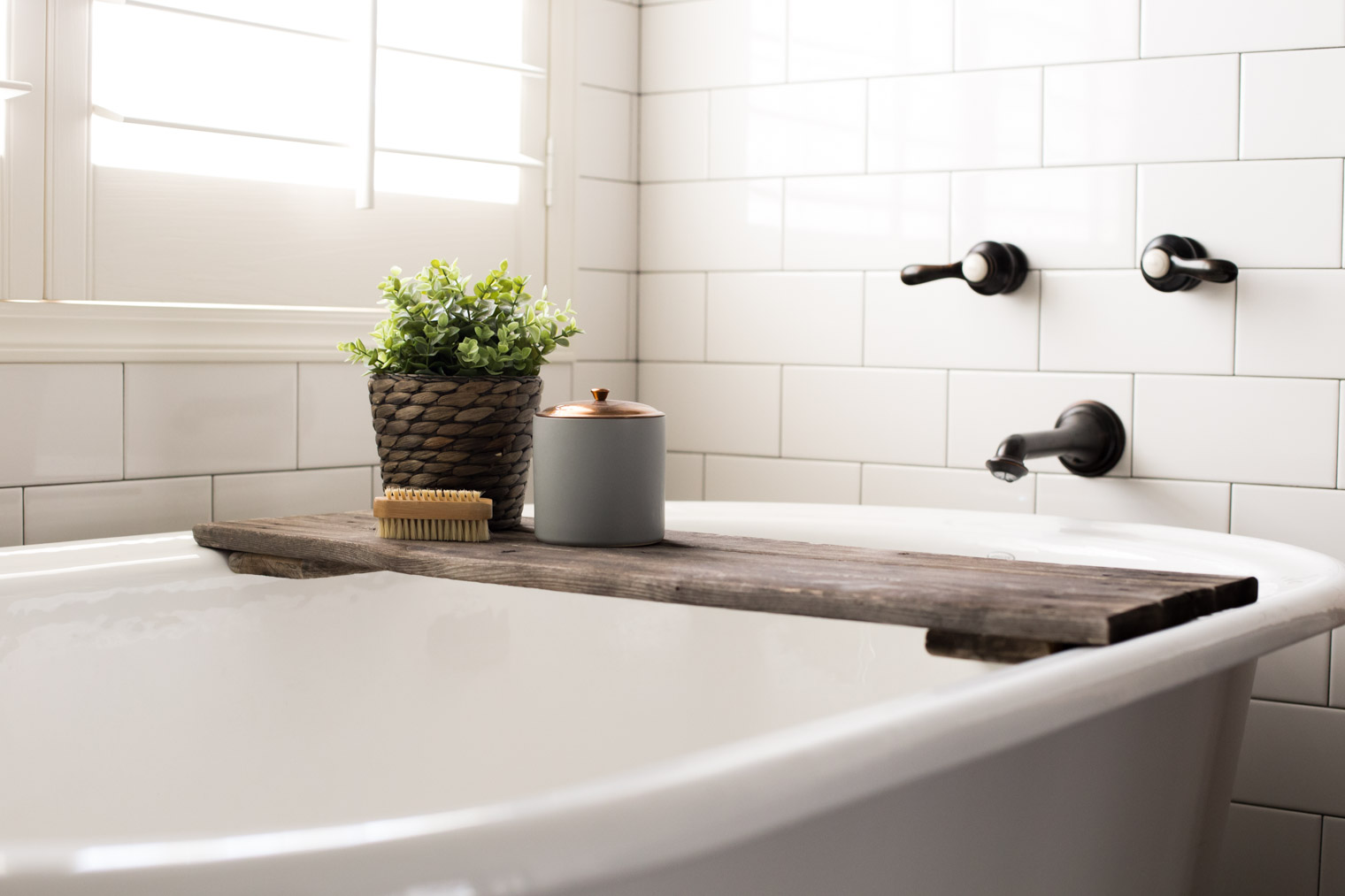 We added some shutters to the bath window to match the rest of the house and I just love the way the afternoon light floods in!  It's amazing how much natural light adds to the beauty of a space.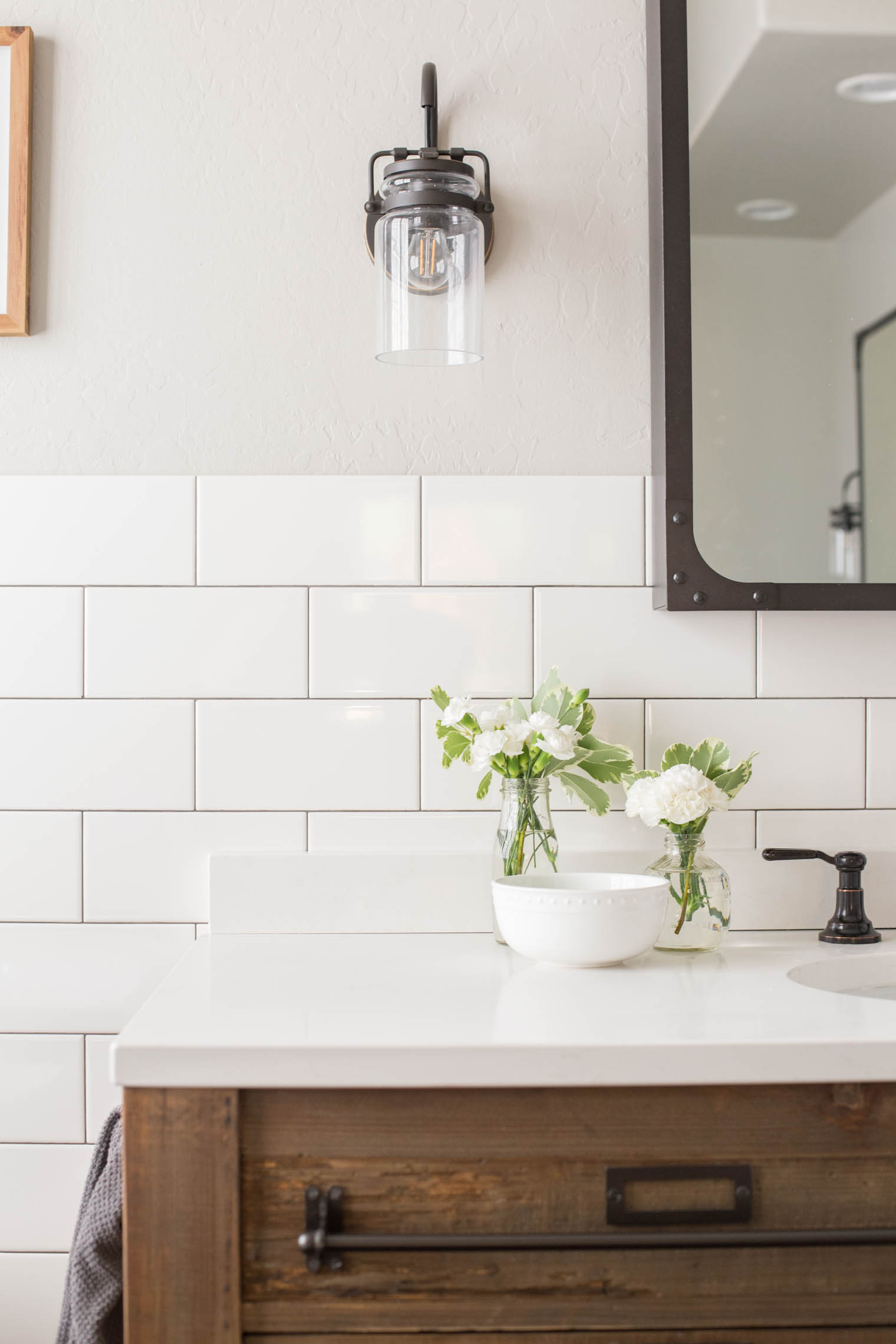 One decision I was not expecting to have so much trouble with was the paint color on the walls.  I literally took home 15 different paint samples over a few months time, and my walls looked like a patchwork quilt.  I got so overwhelmed that I hired a designer to consult with, and she recommend Dunn Edward's Muslin.  It's a very soft grey and I do like it, but sometimes think maybe I should have gone a little more grey/beige.  At least it's just paint! Feel free to chime in and tell me your favorite grey/beige colors. Or maybe I should hope on board the all white walls trend I'm seeing now?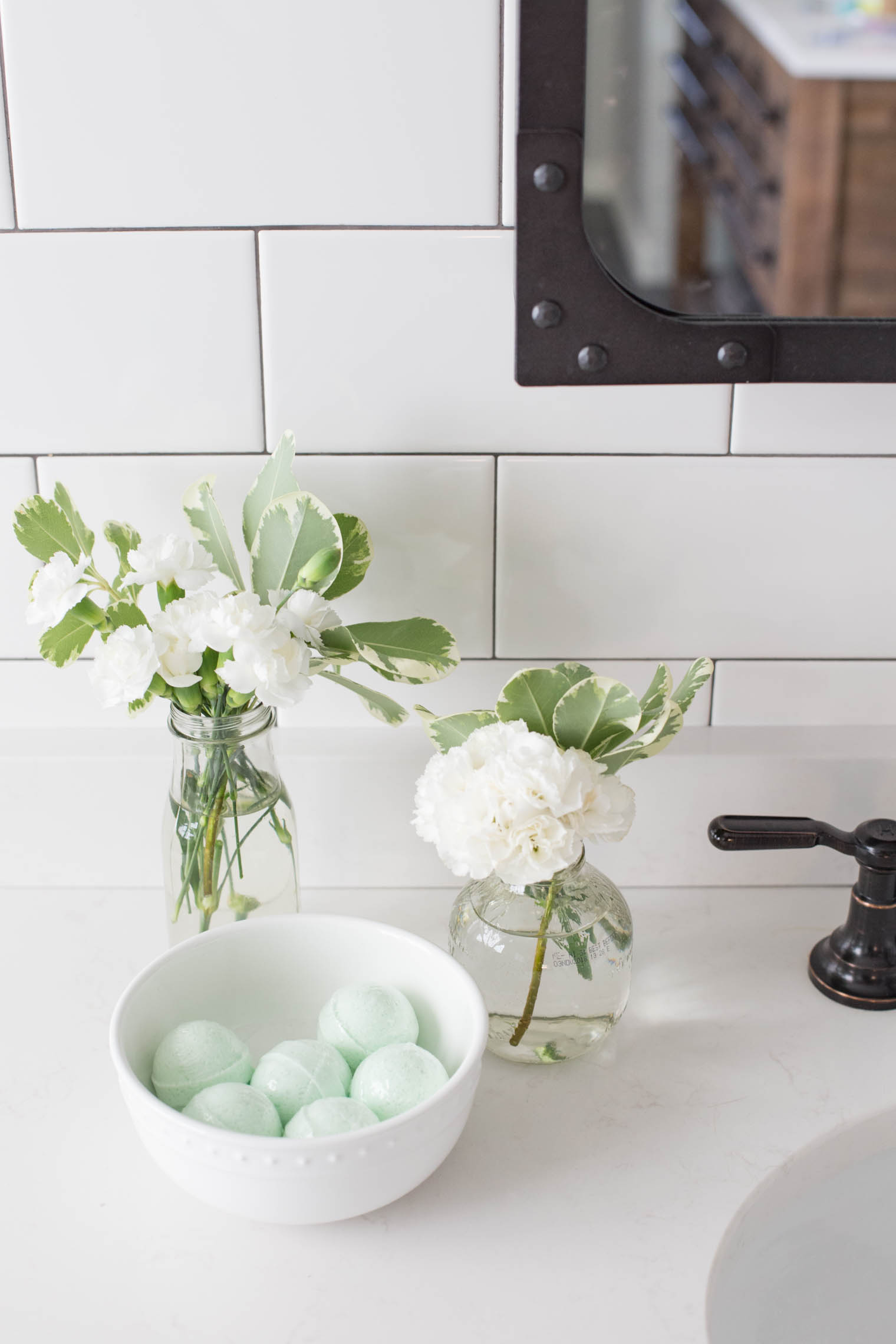 And of course I treat myself to fresh flowers by my sink.
Thanks for following along!