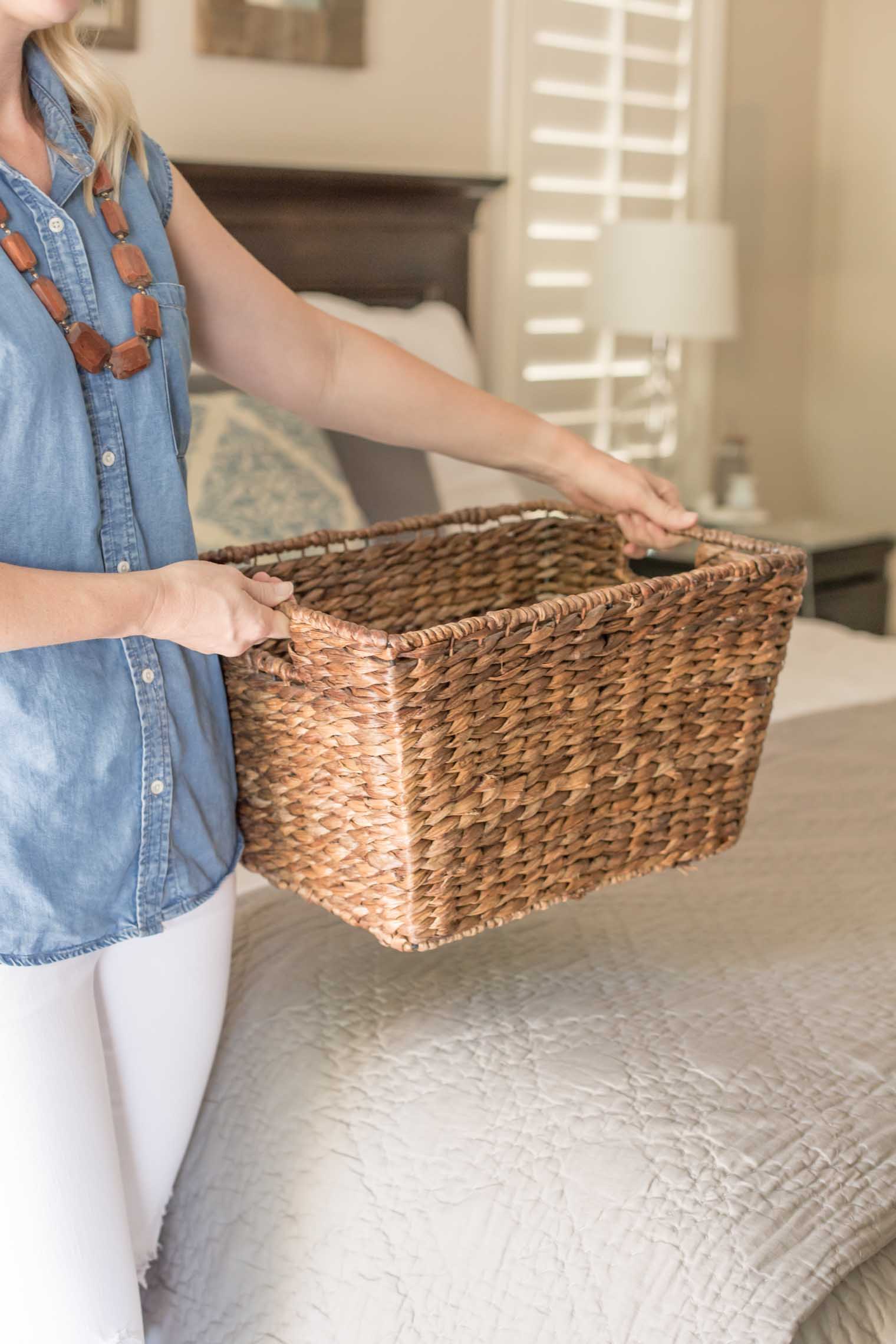 The boys are home for summer, and with all the comings and goings of summertime activities, friends over to play, and relaxed routines, the house can get pretty cluttered!  This is definitely something I've learned to just EMBRACE, and know that those signs of life (wet swimsuits on the floor, couch pillows rearranged, toothpaste that jumped off the toothbrush and landed on the countertop) are somewhat annoying, but NOT anything I want to nag about constantly.  I could.  Really.  But I'm choosing to let some things go, and just smile and tell my boys I can't wait until they have their own houses and I can come over and take their couch apart, spit toothpaste on their countertops, and leave my wet swimsuit on their wood floors!
Just kidding.  I have way too much respect for wood floors to do that!
But here's a little routine I've come up with just because I always feel better when I have a plan.  Somehow there's comfort in knowing a strategy is in place.  So this post is dealing with the daily clutter that builds up when a group of people live in a common space (not so much about the actual deep cleaning – that's a different post!).  My boys are responsible for cleaning their rooms and bathroom before they earn any screen time, so I mainly use this strategy for my kitchen, master bedroom and bathroom, laundry room, and other common areas.
Here's how I keep my house (clean-ish) in 15 minutes a day.
Set aside 15 minutes at the same time every day.
For me, this is in the afternoons.  The boys might be using some of their screen time, or having quiet reading time in their room.
Grab a basket.
Doesn't have to be anything fancy – could be a plastic storage bin or even a laundry basket.  I have a wicker basket I keep on a lower shelf of a console table.  It looks like a decoration, but it's empty for this reason.
Start in the most cluttered room of the house.
For us, this is the kitchen.  Dishes, water bottles, papers, mail, random toys… Set your basket down, and scan the room for anything that needs to be put away in another room.  Add it to the basket.  Do not leave the room you are currently working on to put anything away.
Scan the room for trash, and throw it away.  Collect all the dirty dishes and load them into the dishwasher.
Put the remaining out of place items that belong in that room away.
Grab the basket, and go to the next most cluttered room.
Repeat the process in each area of your home, this time checking the basket for things that need to be put away in the room you are working on, as well as adding to it.  When you've visited each room (spending 3-5 minutes in each room), and your basket is empty – YOU'RE DONE!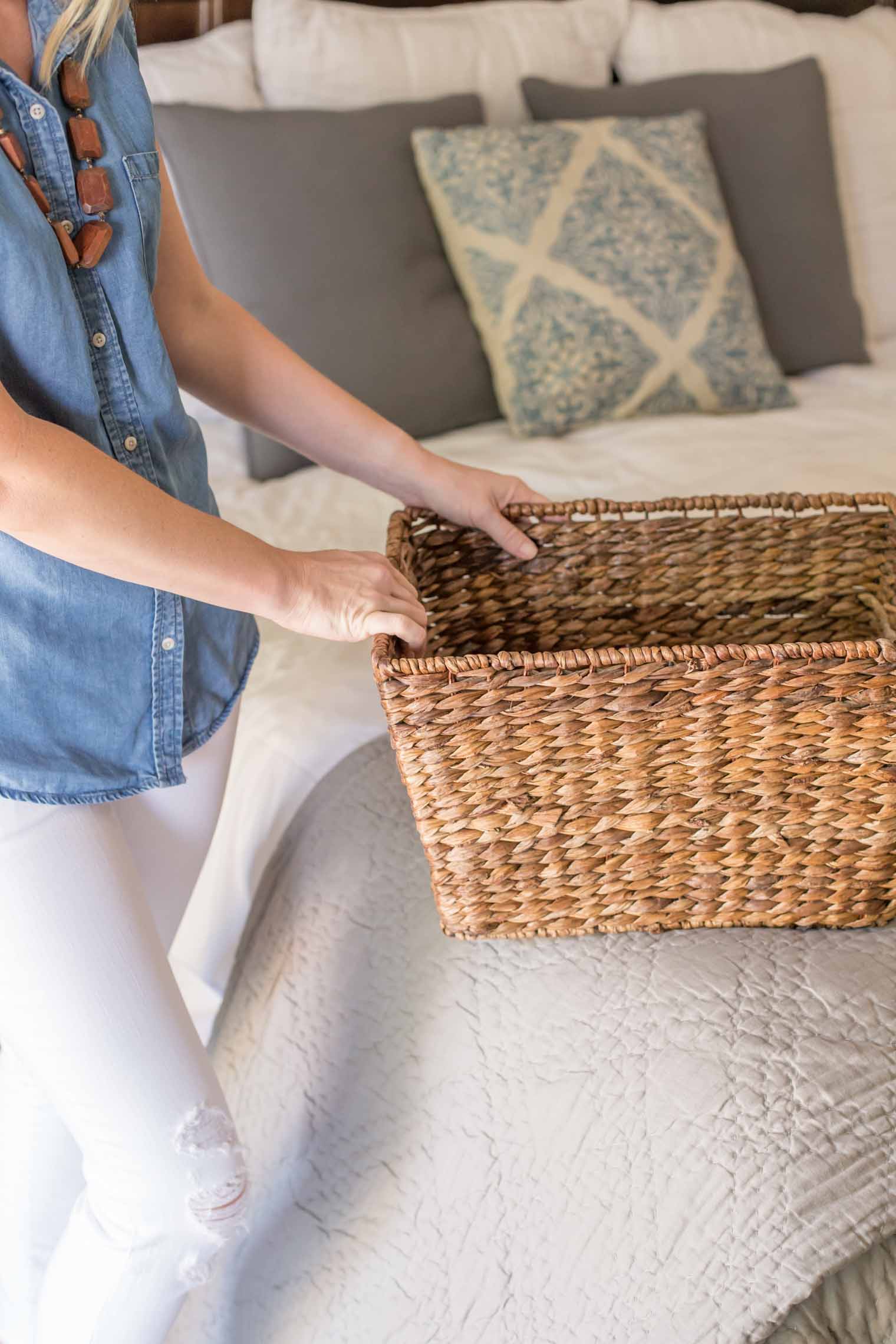 The effectiveness of this "Basket Stategy" lies in that you are not wasting time walking back and forth to different rooms of your house as you tidy up.  Staying in the room you are working on keeps you from getting distracted.  For example, I leave the kitchen to put away some shoes in the laundry room, and realize that I have clothes in the dryer that should be folded… Kitchen is forgotten and clothes are folded.
If you do this every day, you'll find that the clutter stays under control.  I always find that mess invites more mess.  If the kitchen is already a wreck, no one thinks twice about leaving their dirty dishes on the counter.  But if their dirty dish will stick out like a sore thumb in my clean kitchen, they are much more likely to feel the need to take care of it right way.
I definitely don't want to be a slave to a clean house.  I want my family to feel comfortable and free to be creative in their play (read: make messes sometimes).  But I do feel more at peace in an uncluttered space, we don't waste time looking for lost flip flops, fidget spinners, or the latest lego creation, and we are being good stewards of the gifts we have been blessed with.  And that is a lovely thing!
What are some strategies you use to keep your house clean little by little?